Africa's Most-Trusted Tutoring Company
---





Learn from the largest community of professional tutors in Africa
We do home tutoring the right way.
Make Tuteria your children's tutoring partner from cradle to ruling the world.
We work with you to ensure your kids excel at every stage of their learning journey whether it's building early foundations, helping with homework, getting better grades, mastering their subjects or passing pivotal exams.
Learn with the top 1% of vetted tutors

We cover all classes, exams & curricula

Tutors come to your home or online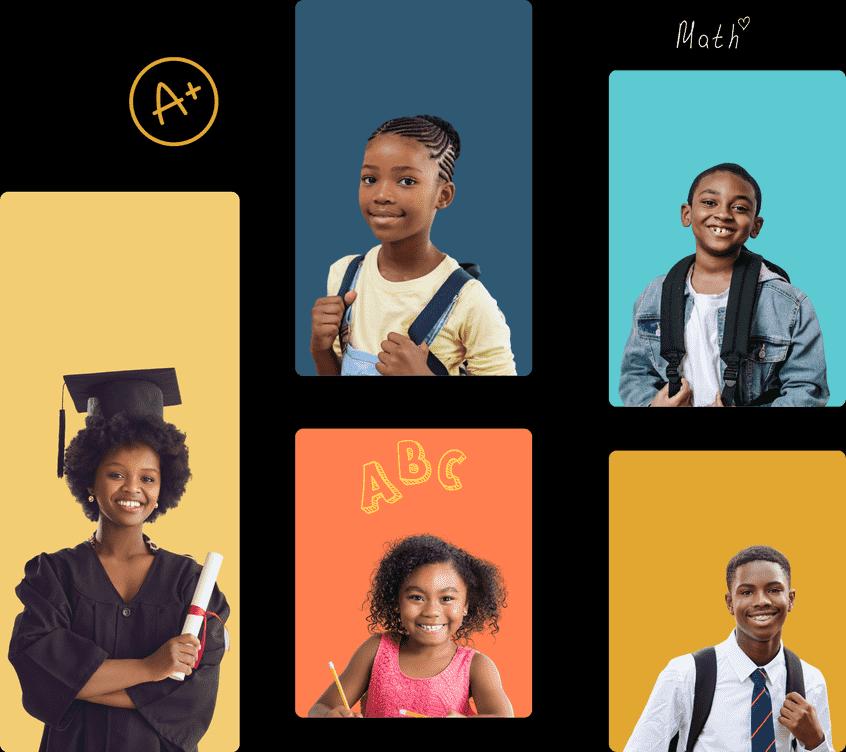 We deliver the best results, period.
Tuteria students perform 3x better in class and school exams
My daughter scored among the highest in her common entrance exam into a top school and got admitted the same day! It's been very gratifying to see her improve under her tutor, to the point where she now contends with the top students in class.
The lessons have been very productive. My son's grades have really improved, and even his school teachers commend his new confidence. He now answers questions in class, and scores higher than most of his class mates.
My son's tutor, Tobi, is very detailed, professional and at the same time gentle with the kids. He takes his time to explain in detail for the kids and my kids results have improved.
Mrs Ayowunmi
Berger, Lagos
Mr. Wisdom who is teaching my son is very knowledgeable in his field. He is also very patient and has been able to make my son always look forward to having learning sessions with him. I definitely will love to recommend him to other clients where necessary.
Tosin is very professional. He knows how to get the lessons across to be effective. My little boy has started reading 2 and 3 letter words and is doing very well with numeracy. Tosin also identified an effective method to help the older one understand his maths. I am quite pleased with his methods. Kudos to him.
Admissions & Travels
Live, work and study abroad
What our students are saying
My tutor helped me overcome my fear of writing IELTS. He taught me from scratch and critically analysed my work. I scored 8.0 overall - 8.5 in Listening, 8.5 in Reading, 7.0 in Speaking and 7.0 in Writing.
Mrs. Emem (IELTS)
Abuja, Nigeria
I can only say that based on my experience with Tuteria, I would recommend you guys again, again and again. I have had IELTS lesson in 2 different places before I came here and I can boldly beat my chest and say Tuteria is second to NONE. Thanks for the awesome experience!
Olajide (IELTS)
Lagos, Nigeria
I needed 160 for my postgraduate admission but struggled with the Math/Quant section. My tutor was very intelligent and he helped me develop confidence for the exam. I had 165 in Verbal, 162 in Quant and got admitted to 3 schools in USA.
Toluwani (GRE)
Lagos, Nigeria
I had 530 in the diagnostic test with Quant being my lowest; my goal was at least 700 to get into INSEAD MBA. Getting a GMAT tutor was the best decision I made. I was challenged, encouraged and thankfully, got the executive MBA admission.
Yewande (GMAT)
AkwaIbom, Nigeria
The lessons were very helpful. My tutor was a patient and knowledgeable teacher. We practiced a lot of IELTS questions, and he helped me develop confidence for the exam. I scored a 7.5 overall band score.
Ifeoma Mary (IELTS)
Lagos, Nigeria
My experience with Tuteria' GMAT was quite phenomenal. They took their time to teach me and the tutor ensured that I understood the techniques of GMAT which increased my score from 430 to 720.
Bolaji (GMAT)
Lagos, Nigeria
Getting a tutor was the best decision I made. My tutor was extremely professional. He taught with so much expertise and this made me confident to write the exams. Thankfully, I got the school of my choice for the executive MBA program I applied for.
Brendan Ndifon (GRE)
Abuja, Nigeria
Test Prep
Get top grades in tests & exams
Reviews from students and parents
My tutor makes learning easy by creating an environment where you're comfortable. His total understanding of the concepts in the new SAT format makes me feel safe and that I'm learning from an experienced pro. Lessons with him have definitely been amazing and not only is he an amazing teacher, he's amazing guy too.
Mrs Yinka (SATs)
Maitama, Abuja
I'm grateful to have come in contact with tutor Tobi. He was more than just a tutor to my son, he was a mentor in all areas and even taught him more than what he was hired for. I stand proud to say that my son wrote 3 entrance exams and passed all. Tobi was very supportive.
Mrs. Eniola (Entrance)
Lekki, Lagos
Tuteria helped my daughter, Tolu, achieve an unbelievable result in JAMB. She scored 325 out of 400 in and also got 5As & 4Bs in GCE with the help of one of your home tutors.
Mrs. Awoderu (UME)
Berger, Lagos
Music & Languages
Explore lessons for kids & adults
What our students are saying
Mrs Fadiji is an exceptional Yoruba language tutor. She keeps the whole family glued to her slides. Her style of teaching is interesting and we all look forward to the next class.
Mrs. Diana (Yoruba)
Lekki, Lagos
My child's tutor is patient and very knowledgeable with what she does, she is a very good teacher and child friendly. My son believes he is more knowledgeable and looks to the day he can make conversations with ease. I'll recommend her any day
Franca (Spanish)
Masha, Lagos
My children thoroughly enjoyed the lessons and have made a lot of progress in their music skills. Their tutor was always on time and professional, the kids are very comfortable with her teaching style.
Funmi (Piano)
Lekki, Lagos